Dangerous Gibraltar Airport | British Airways @ Gibraltar | 4K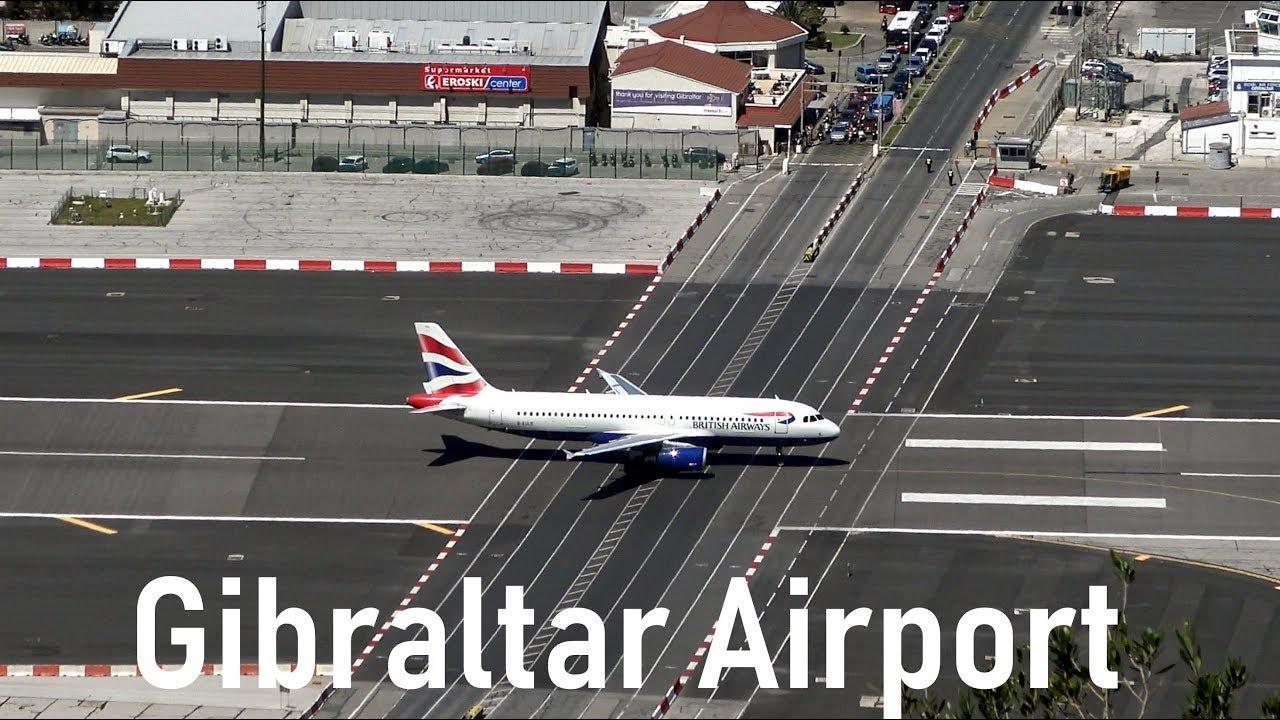 Dangerous Gibraltar Airport | British Airways @ Gibraltar | 4K
Gibraltar Airport is listed as one of the most dangerous airports in the World. Not at least because of it's only 1777m long runway, but also because of the 4-lane Winston Churchill Avenue, which is crossing the runway. This is very unique. My 4K Video shows Airbus A320 jets of British Airways with flights from and to London at the Airport including a 'nice' crosswind approach. Captured on 09.04.2016.

Gibraltar is a British Overseas Territory located at the southern tip of the Iberian Peninsula.It has an area of 6.7 km2 (2.6 sq mi) and is bordered to the north by Spain. The landscape is dominated by the Rock of Gibraltar at the foot of which is a densely populated city area, home to over 30,000 people, primarily Gibraltarians.[10] It shares a maritime border with Morocco. Under the Gibraltar constitution of 2006, Gibraltar has limited powers of self-government, with some responsibilities, such as defence and foreign relations, remaining with the British government.

In 1704, Anglo-Dutch forces captured Gibraltar from Spain during the War of the Spanish Succession on behalf of the Habsburg claim to the Spanish throne. The territory was ceded to Great Britain in perpetuity under the Treaty of Utrecht in 1713. During World War II it was an important base for the Royal Navy as it controlled the entrance and exit to the Mediterranean Sea, which is only 8 miles (13 km) wide at this naval "choke point". It remains strategically important, with half the world's seaborne trade passing through the strait. Today Gibraltar's economy is based largely on tourism, online gambling, financial services and cargo ship refuelling.

The sovereignty of Gibraltar is a point of contention in Anglo-Spanish relations because Spain asserts a claim to the territory. Gibraltarians rejected proposals for Spanish sovereignty in a 1967 referendum and, in a 2002 referendum, the idea of shared sovereignty was also rejected.

Der Flughafen von Gibraltar zählt zu den gefährlichsten Flughäfen der Welt. Nicht nur wegen seiner mit 1777m relativ kurzen Start- und Landebahn sondern auch, weil dieses Bahn von einer vierspurigen Hauptverkehrsstraße gekreuzt wird. Mein 4K-Video zeigt Airbus A320 der British Airways mit Flügen von und nach London, einschließlich eines Anflugs mit Seitenwind. Aufnahmen vom 09.04.2016. Gibraltar ist ein britisches Überseegebiet an der Südspitze der Iberischen Halbinsel. Es steht seit 1704 unter der Souveränität des Vereinigten Königreichs und wurde 1713 von Spanien offiziell im Frieden von Utrecht abgetreten, wird jedoch seitdem von Spanien beansprucht."